Bálint Földi - Szent György Hill
My grandfather is an important figure in my life, I've definitely inherited my curiosity from him. He used to be the head of the Textile Department at the University of Applied Arts and made altogether about eight or nine gobelins throughout his life, out of which four are still owned by the family
Bálint Földi showed us his barely one-hectare estate last August. We already knew something about him and his wines that are filled into slim bottles, but the picture came together while talking to him at his old Kéknyelű parcel. This is one of his most important plots, where he started out from in 2012. Before that, he had been to many places: working as a cellar hand in New Zealand, harvesting at Gellavilla and on Szent György Hill with Ödön Nyári. Now, most people know him as the winemaker of Sabar, where he works full time. There are only a few places where you can find his own labels, which are highly-regarded, small-batch wines from three varieties, made in Bálint's mature style. The continuation of the couple of hundred bottles that arrived and ran out quickly last year have just come in, and we're now showing three of Bálint's wines from the 2020 vintage.
I wanted to become an epee fencer. Until I was 20, everything was about sport. Then one Sunday morning, I was aimlessly switching from one TV channel to another, when I saw a man with a Jimmy Hendrix hairstyle talking about something. What he was saying fascinated me, and I stopped switching around. In fact, I was paying more and more attention. It was Mihály Figula Snr talking. It may seem like an exaggeration, but it struck me almost as a Buddhist enlightenment: if this man is a winemaker, then I want to become one. – B. F.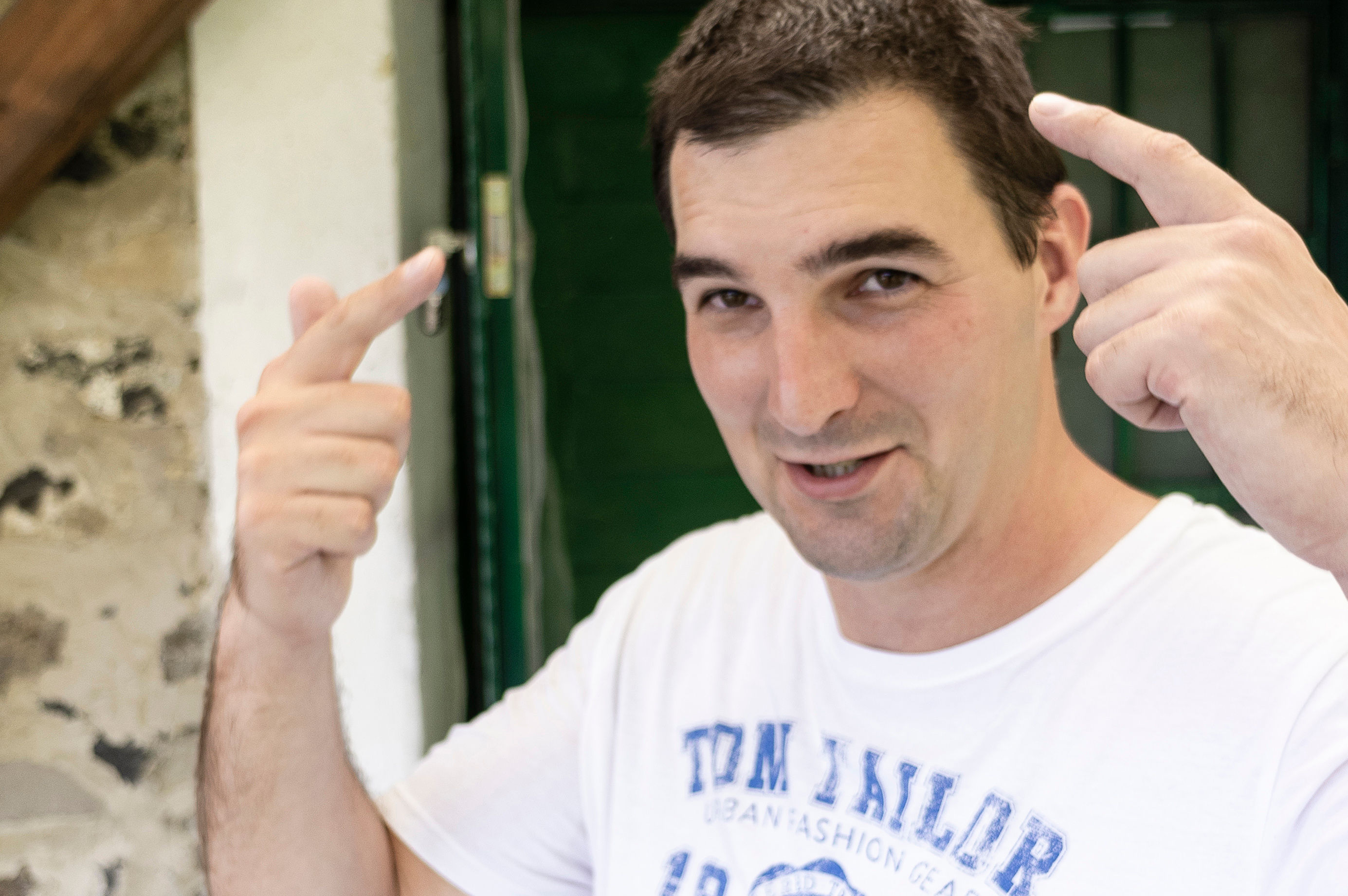 Olaszrizling 2020
A blend of two spots: a parcel under the cellar with a total of 400 vines; and next to it Bálint's own, 35-year-old (the same age as himself) plot in Badacsonyörs, with a total of 1,000 vines. The whole-bunch pressing was followed by spontaneous fermentation in tanks and used barrels. The citrusy world of the Olaszrizling starts discreetly, but keeps opening up on breathing. The palate is broad with a mineral finish. (1000 bottles were made).
There is only one rule of thumb in the cellar: everything is spontaneously fermented. This also means that the process takes a very long time, but the result will be more complex. This is the beauty of things. If you have an idea of what kind of wine you want, this way you can follow the fermentation throughout. says Bálint.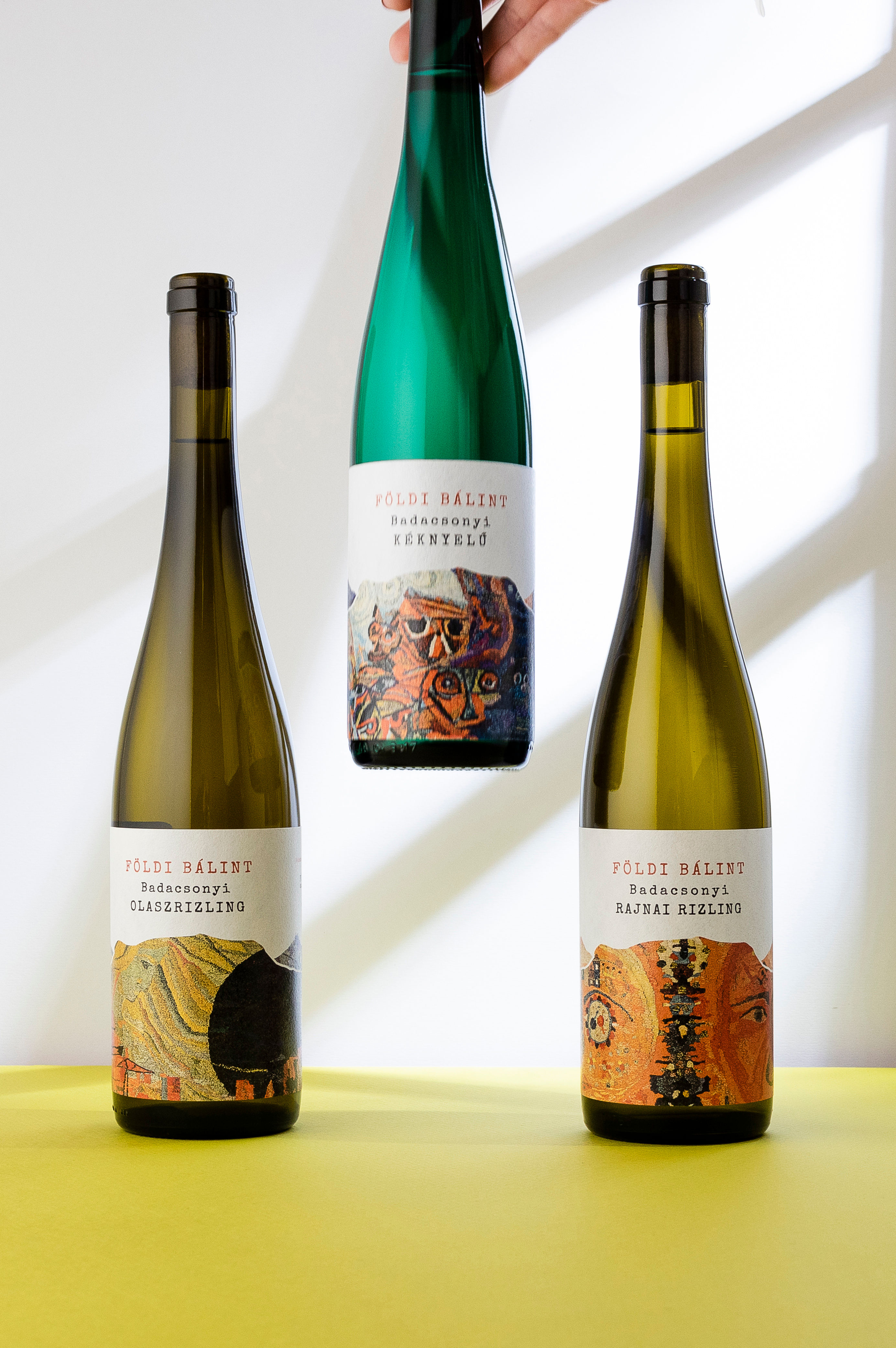 Rajnai Rizling 2020
Like the Olaszrizling, the Riesling is a blend of two parcels: the steep vineyard near the cellar with 500 vines and the Csendár vineyard on the west side of the hill. They are low-yielding, young plantations. For this variety (due to the style), Bálint only uses tanks for fermentation and ageing. It's one of our big favourites in this vintage: it's vibrant, almost explodes on the palate, then lingers for a very long time, with orange peel flavours and a little residual sugar. (Altogether 400 bottles were made)
The Riesling makes me the happiest now. It's the most difficult variety out of the three, but it appreciates that it was not put out on the market before its due time. The half a year of bottle-ageing did it wonders.
Kéknyelű 2020
Its base comes from the vineyard of 400 vines behind the winery, plus the selection from two smaller plots, thus, altogether only one barrel was made from it. The whole-bunch pressing was followed by spontaneous fermentation in five-hectolitre used barrels, where the wine also aged until bottling. It's a broad, big wine with a lively palate, and is a real rarity. The palate is round, all the details are in harmony, with delicious warmth on the long finish. A great wine with unique flavours. (Altogether 750 bottles were made of it).
Kéknyelű is the apple of my eyes. Even my thesis' subject was the variety, it was entitled: The Complex Analysis of the Kéknyelű variety.