Moët & Chandon – Grand Vintage 2015 & Rosé 2015
Champagne is the frontline of viticulture. The weather there is capricious and extreme, and in the region of May frosts and August monsoons, only those growers who have learned to deal with the risk have been able to survive.
A typical champagne is a huge mosaic: a complex composition made up by the fruit of several vineyards, countless parcels, half a dozen vintages and three varieties. Something quite extraordinary should happen for the Champenoise to deviate from this proven recipe. Only the best vineyards, the most outstanding vintages, the loveliest Pinot Noir or Chardonnay harvests can justify abandoning caution. Vintage champagne is therefore always a document of luck and pride felt over a job well done. A labour of love created with the greatest dedication and patience, from the most beautiful grapes.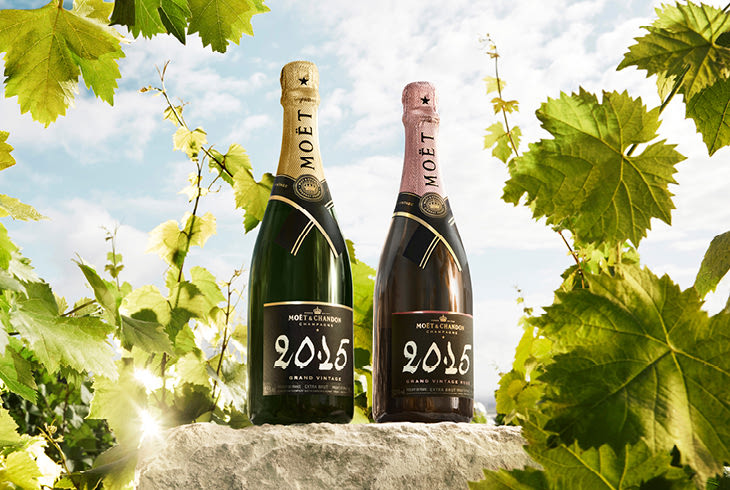 Grand Vintage 2015 & Rosé 2015 
 
Currently, 510,000 bottles of Grand Vintage are ageing in Moët & Chandon's cellars. There's only one bottle remaining of their oldest, but that is also a minor miracle considering that the grapes were harvested in 1869, which means that it was born at the same time as Rasputin and Gandhi. The 2015 is the 76th in the series of Grand Vintages, and the 45th in the case of the rosés.
GRAND VINTAGE 2015
The character of the 2015 Grand Vintage can be summed up by three characteristics: ripe grapes, soothing texture and full body. After six years of ageing on lees, it was disgorged last autumn. Brilliant bubbles, subtle mousse. Composition: 44% Pinot Noir, 32% Chardonnay, 24% Meunier. The dosage: 5g/litre. Extra Brut.
GRAND VINTAGE ROSÉ 2015
The 45th vintage rosé in the house's history is characterized by a bright garnet hue, spicy aromas and a powerful structure. While the year 2015 can be described in three words as: heat, sunshine and dryness. This favoured the Pinot Noir, which is why the variety forms the backbone of the blend. It's concentrated, distinctive, rich in layers. Composition: 52% Pinot Noir, 27% Chardonnay, 21% Meunier. The dosage: 5g/litre. Extra Brut.
Moët & Chandon – Grand Vintage 2015
MOËT & CHANDON Grand Vintage 2015

MOËT & CHANDON

Grand Vintage 2015
MOËT & CHANDON Grand Vintage Rosé 2015

MOËT & CHANDON

Grand Vintage Rosé 2015