Niepoort, Portugal
Simpler is more difficult, less is more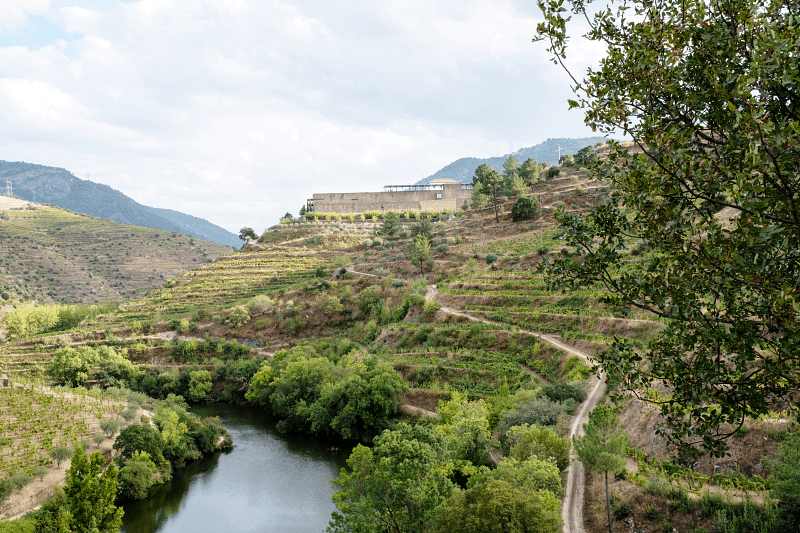 If you're a digital nomad, if surfing or golf is your passion, then Portugal can be your second home. Sunlight, the ocean, cheerful people, a foolproof culinary culture, creative young people, ancient cities, an exotic atmosphere and dramatic landscapes. There must be something here that cannot be found anywhere else.
In terms of size, population and economy, Portugal is just as big as Hungary. As for wine production, Portugal also owes its worldwide fame to a sweet wine, and it also struggles with the fact that scores and accolades do not translate into financial turnover and results. And the series of similarities suddenly ends here.
Portugal is small for a country, but big for a port. That 600 by 200 kilometre rectangle that can be seen on the maps is actually just the tip of the iceberg. Both physically and spiritually, Portugal is 97 per cent sea, and in terms of history, culture and ethnic composition, it is at least as much South American, African and Asian, as it is European. The history of the Portuguese Empire began in North Africa in 1415 and ended in 1999, with the return of Macao to China. It was the 10th largest empire in world history, with an area of 10 million square kilometers in its heyday, which included Brazil and Angola, and controlled strategically important port cities such as Nagasaki, Manila and Goa. That is from where Portugal fell back from at the end of the empire's fall, and it became the impoverished periphery of Europe.
Among Europe's wine-producing nations, Portugal is like a sunken continent that slept through the 20th century and then resurfaced suddenly. It has been isolated from the European mainstream for most of modern history, and after a long period of fasting, the wine industry is now starting to reap the benefits. It set out with 300 indigenous varieties to conquer new generations, who are dismayed by international varieties and uniform tastes.
Compared to the country's modest size, Portugal cultivates a plethora of grape varieties, and produces many wines styles and does it in surprisingly large quantities (the annual production is two and a half times that of Hungary). With the exception of the peaks of the northern and central mountain ranges, grapes are grown everywhere, in extremely diverse topography, soil and climatic conditions. On the mountain ranges north of Porto, the amount of precipitation reaches 2,000 mm per year, while in the inland wine regions it remains below 500 mm. On the northern hills, the average annual temperature is around 10 °C, while on the southern plains the average is 17.5 °C. Nothing could illustrate the radical differences in climatic conditions better than Vinho Verde and Port – produced next to each other: one is white, lean and zesty, the other is red, full-bodied and sweet.
Wachau is beautiful, the Mosel is even more beautiful, but the Douro is the most beautiful
The Douro is the largest mountain wine culture in the whole world – with its 45,000 hectares of terrace-cultivated mountain- and hill-sides. It is one of the most wonderful creations of man, who tamed nature to build a garden – and not only the exposure, or the terraces outlining the contour lines, but also the soil itself is special and eye-catching. This is 'slate land': the roots of the vines and olive trees dig into the slate, the retaining walls are made of slate, the vineyard road is made of slate, in fact – and you have to look twice to believe it – even the cordon poles are made of slate. When the sun shines, the black, red, and yellow stones shine, then when it starts to rain, they sparkle in the colours of the rainbow and cast an eerie light on the hillsides.
Hungarian writer and philosopher Béla Hamvas would surely have been able to come up with some deeply spiritual reason why riverside wine cultures are the deepest, but the practical arguments are also quite compelling: for most of history, rivers were the superhighways, the circulation network of trade, and the steep hillsides of river valleys were ideal. They offered perfect conditions for growing grapes (as long as we ignore the difficulties of climbing and hoeing uphill). Winding between the mountains, at a height of 300-800 metres, the Douro flows into the Atlantic Ocean near Porto, and whoever manages to get their wine to there can have a market for all of Europe and half of the world.
Who is Dirk Niepoort?
Dirk Niepoort is a wide-angle lens – someone who is not satisfied with simply wanting to do things differently to his father, or just with the fact that the Douro and Porto constitute his homeland. He wants to travel further and think more freely. He revives historical wine styles and this history is much wider and deeper than that of fortified wine. He believes that Porto is a treasure, but it is only part of the Douro, and that the Douro is the world's greatest growing area, but the world will only realize this if it first gets to know and embrace Portugal.
The best-known and most original face of the Portuguese wine scene was born in 1964 to a Portuguese father of Dutch origin and a German mother. His father, Rolf van der Niepoort, represented the fourth generation of the port-trading company and winery that was established in 1842, while the sixth generation, Daniel and Marco Niepoort, both work at the winery now. Dirk Niepoort graduated in Economics in Switzerland and returned to the family business at the age of 23. He is not officially a winemaker, but he is a passionate wine lover, who has been everywhere where grapes are grown, tasted everything worth knowing, and thanks to his imagination and determination, combined with wide experience, he questions everything, takes it to pieces and rebuilds it from the bottom up.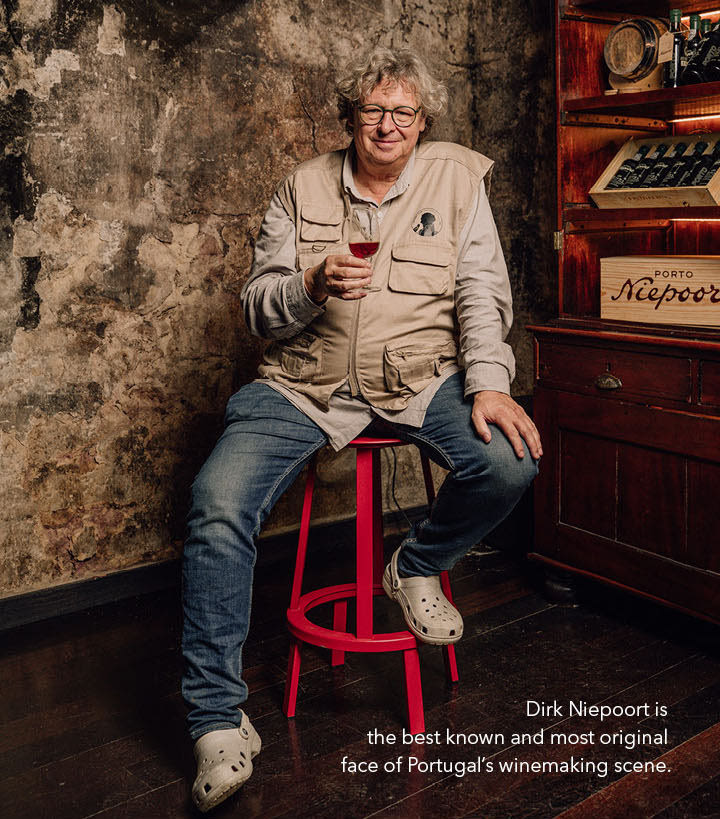 He had barely been working alongside his father for three years when it occurred to him that they should also make dry red wine. Originally, he had an elegant wine in mind, but by his own admission, the 1990 Robustus became a monster: over-extracted, dark, strange and excessive on all levels. His father disliked it so much that in 1991, when Dirk went on a lengthy trip to Australia, he sold most of it behind his father's back. Out of the five large barrels, only one remained, so a total of 630 bottles and 45 magnums were made of it. When, a few years later, it was shown to the legendary wine expert of the time, Michael Broadbent, at a dinner, he said the "Portuguese Latour" had been born. Rolf replied that it had a disgusting and pervasive smell of new barrels. Dirk countered that it had never been in a new barrel. Broadbent tried to convince the father: "Rolf, this is really good", to which the old man replied: "It stinks like ..." – then they opened some 1945 Ports and the rest of the evening was spent in an elevated mood.
As a pioneer of dry wine, Dirk is often confronted with the question of whether it is permissible to break from the uniform message, and if it is not a waste to make dry wine from the grapes that could have been used for Port. His response to this is that the Douro is characterized by unprecedented diversity – 85 varieties are grown on the 45,000 hectares, there are plantations at 80 metres and some at 800 metres above sea level, and the exposure of the vineyards covers all directions of the wind – so that practically anything is possible here. Dry wines do not steal the best grapes from Port, because what is good for Port is not the best for dry wine, and vice versa. There are no irreconcilable differences. Moreover, the great common goal is not to save Port, but to elevate the Douro.
Niepoort often states that he wasn't born intelligent, he didn't study as much as others, he learns while working, and the more he works, the more he knows. Furthermore, he's not ashamed to learn from the experiences and thoughts of others. As he puts it: "I live from the influences of others." Furthermore, these others are the most respected figures and bravest innovators in the wine world. He's not just friends with but also collaborates with Eben Sadie from South Africa, Wilhelm Haag from Mosel, Telmo Rodriguez from Rioja and Raul Perez from Galicia. They learn together, experiment and develop together. They don't agree about everything and they don't always draw the same conclusions, but they've all had enough of uniformized technological perfection, standardized wines, and the 'international style'.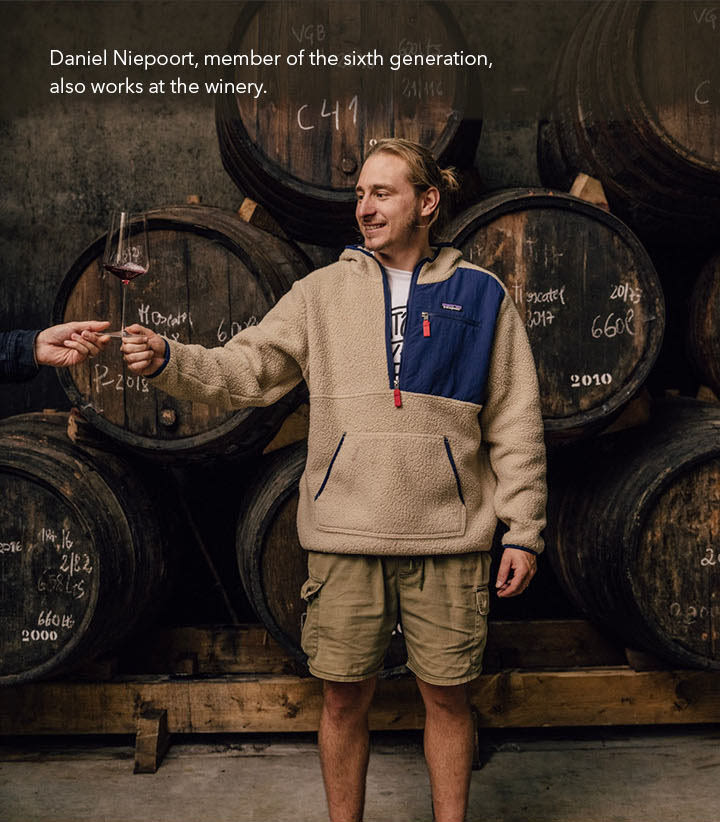 Simpler is more difficult, less is more
Today, winemaking has become like contemporary classical music in many ways. There's a lot to learn and a lot of rules to consider, before you can start creating your own work. And before you even play a tune, you realize that there's hardly any space left for your thoughts and feelings. It's no wonder that the younger generation feels the need to forget about music theory and start tinkling on the piano and jamming in the garage again – to give up the security of sophistication and complexity, to gain exposure to primary emotions and primitive rhythms.
The DRINK ME project reflects this recognition and this attitude. On the one hand, the emphasis is shifted to getting to know the place of growth and the grapes, and on the other, it is returned from the admirable and awe-inspiring works of art to the level of clinking glasses, friendly teasing, and cheerful togetherness. Simple wines, the way people used to make them: bottling at the waning moon, with some residual sugar, which then re-ferments and makes the wine sparkle. No filtering, no sulphur, it doesn't attract too much attention, but it's enjoyable.
In Dirk Niepoort's words: "The aim is to make wines with good dinkability, characterized by the intensity of aromas, natural acidity, low extraction and low alcohol content. They should be wines that we enjoy drinking and don't think too much about – light, fresh and as natural as possible. They are easy to drink and fresh, and we fill them into one-litre bottles.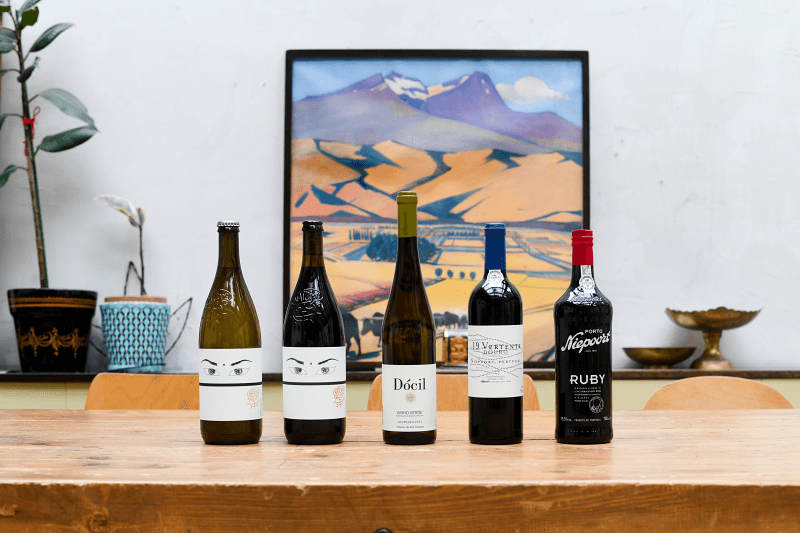 We have selected the most important wines of the Niepoort empire, spanning across five wine regions.
DRINK ME Branco 2021
A chemical-free, organically-grown wine made from indigenous varieties, with spontaneous fermentation and without unnecessary, complicated technology. Or rather a Pet Nat? It was bottled with a few grams of residual sugar, which is just enough to make it slightly effervescent when opened. Poured into the glass, it is opalescent, the palate is cidery with yellow apple, citrus and hazelnut. It's a rustic and vibrant wine with a sour, spicy finish. Azal, Arinto, Avasso, Trajadura and Loureiro. The aim is to resurrect a type of wine that was once typical of Vinho Verde.
DRINK ME Tinto 2021
It's a return to the concept of 'proper' table wine. Minimized ecological footprint, light bottle and fun contents. The Baga grapes were harvested from 100-year-old vines, processed in whole bunches, fermented and aged in steel. It's lighter in colour than Kadarka, with aromas of redcurrants, rosehips and cranberries, with distinctive spiciness. A light, tasty, vibrant thirst-quenching wine that can be enjoyed in large sips.
Niepoort Vinho Verde Dócil Loureiro 2020
Vinho Verde is the wine region of the northwestern tip of Portugal, where refreshingly lively white wines are produced thanks to the 'air conditioning' effect of the Atlantic Ocean. The Loureiro grapes are grown on Dócil granite – alongside Alvarinho, Loureiro is the leading variety in the wine region. It was spontaneously fermented in steel tanks, then it spent five months on fine lees, without malolactic fermentation. Distinctive, invitingly fruity and minerally cool at the same time. Lime, green apple, white flower aromas, which are accompanied by a definite saltiness on the palate. Despite the freshness, the palate is compact, full and round. An exciting yet easy-to-love wine.
Niepoort Vertente Douro 2019
The frame of Dirk Niepoort's Douro picture is in fact the 'estate wine'. The crop of mixed plantations, mostly Tinta Amarena and Touriga Franca from 50-80-year-old vines. It's a masterful interpretation of the intensely luscious, dark-flavoured grape varieties of the Douro: no jam, no bitter heaviness, but a vividly fruity, complex and elegant wine. The texture of the palate, the chalky tannins, would deserve a study by themselves. A memorable encounter of the special soil, the high-altitude plots and old vines.
Niepoort Ruby Port
Niepoort Ports – released in a special bottle – enjoy a legendary reputation among collectors. The Ruby Port represents the entry level, of course, you cannot expect the complexity that develops with longer maturation. The smoky, chocolatey, malty notes appear only as a hint, while the fruits prevail more freely. Cherry liqueur, plum jam, and marzipan are the leading flavours. The overall impression is light and fresh thanks to surprisingly bright acids and finely porous tannins. It's an unforgettable experience when tasted with high-quality black chocolate or blue cheese.
Niepoort
NIEPOORT Nat'Cool Bairrada Tinto 2021 (1 l)

NIEPOORT

Nat'Cool Bairrada Tinto 2021 (1 l)
NIEPOORT Vertente 2019

NIEPOORT

Vertente 2019
NIEPOORT Ruby Port

NIEPOORT

Ruby Port